At work and in private life, there are always events that should be planned. For example, the creation of an advertising campaign or planning a party.
Of course, nothing should go wrong with this event and all steps should be well planned. To guarantee this with simple means, this Excel template was created.
By the way, you find a detailed event planner here.
Table of Contents
What is an action plan?
An action plan is a detailed and specific set of steps or strategies that outline how to achieve a particular goal or objective. It is a document that breaks down a larger goal into smaller, actionable steps that can be taken to make progress towards that goal.
Action plans typically include a timeline or deadline for each step, as well as the individuals or teams responsible for completing each task. They may also include resources required, such as budget or personnel, and any potential obstacles or risks that may arise.
Action plans are commonly used in business, education, healthcare, and personal goal-setting to provide a roadmap for achieving specific outcomes. They can be created for short-term goals or long-term objectives, and may be updated and revised as progress is made or circumstances change.
How does the action plan template work?
Download the template from the bottom of this page.
Open it with Excel or any other program comfortable with tables.
In the worksheet "Action Plan" you can see an example. Change it as you like.
Or open the worksheet "Action Plan Blank" and fill it out without any premade content.
Now you can print it and / or send it with e-mail to your workmates.
Screenshot of an action plan template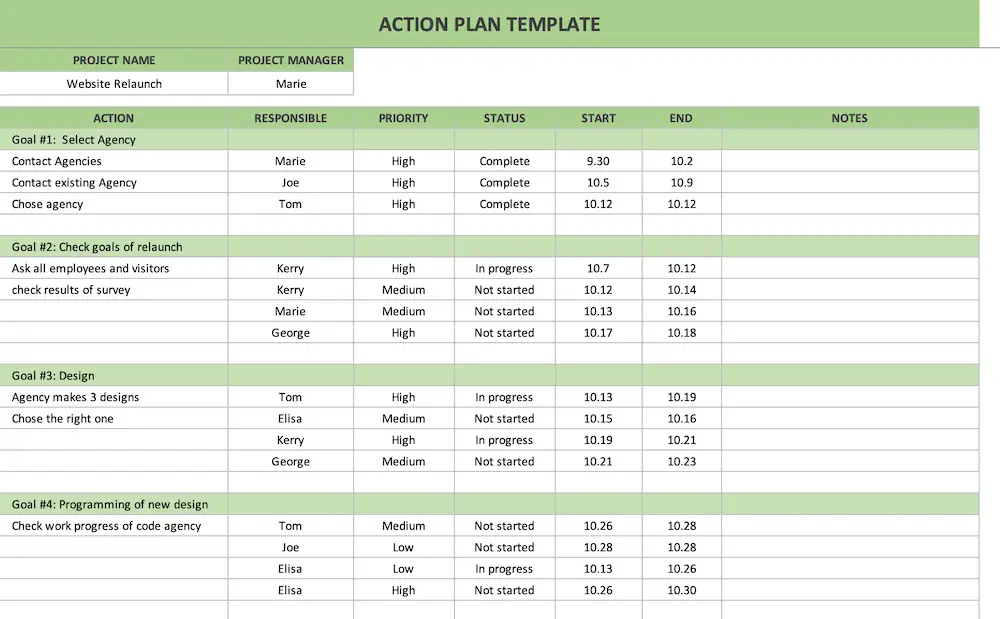 Download the template of the action plan for Excel
If you like my templates, I'm looking forward to a little donation 🙂
Other action plans I found on the Internet