Free Excel templates are great, but they are not great enough if they don't help to improve our health.
According to the American Heart Association, one should have at least 150 minutes of moderate activity each week. This can also be substituted with 75 minutes of vigorous activity per week. The Amercian Heart Association continues that physical activity boosts mental wellness, improves physical health, and prolongs one's optimal health and life.
This time, we've come up with another brand new free Excel template that not only pleases the eye but also lets you keep track of your daily activity, helping to improve your health and wellness.
Have a peek at screenshots from the Activity Log Excel Template: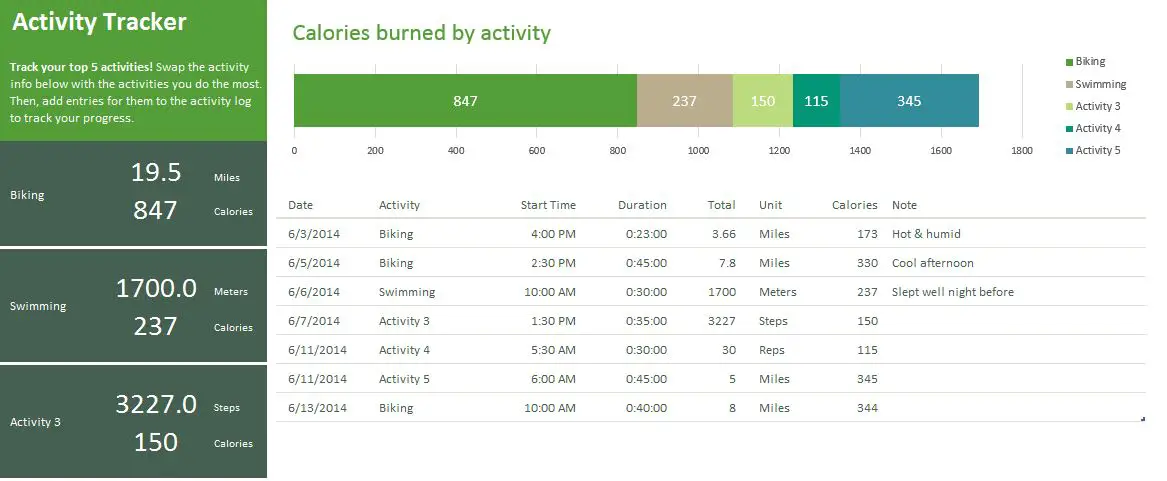 How it works:
The Activity Log MS Excel template has 2 worksheets:
Activity Tracker
Activity List
Activity List is a worksheet where you enter the type of your activities once and hide it then after.
The Activity Tracker worksheet is where all the logging and tracking takes place. It reads the types of activity from Activity List and provides you with a convenient table where you enter your daily activities. Based on this data, it then shows you the total calories you've burnt in different formats.
But why reading all of this when you can grab this beautiful Excel template yourself and try it out?
Download your free Excel template "Activity Log" here:
If you like my templates, I'm looking forward to a little donation 🙂
Similar free templates online:
I made a quick search for similar free Excel templates and found some helpful URLs. Hope you find them useful too: