Every company, whether it has 5 or 5 thousand employees, needs to track the absence and availability of its personnel. This enables the company to pay its employees fairly, avoiding any disputes, and keep record of their overall performance and availability over time.
There are many software out there that streamline this process for the human resource department of middle to enterprise-sized companies, but these solutions are expensive and add too much complexity and overhead. Small business owners and startups with a few employees need a simple and effective way to keep track of their employees' absence and this is why we publish this week the free Employee Absence Tracking Calendar Microsoft Excel template.
Have a peek at screenshots from the Employee Absence Tracking Calendar Excel Template: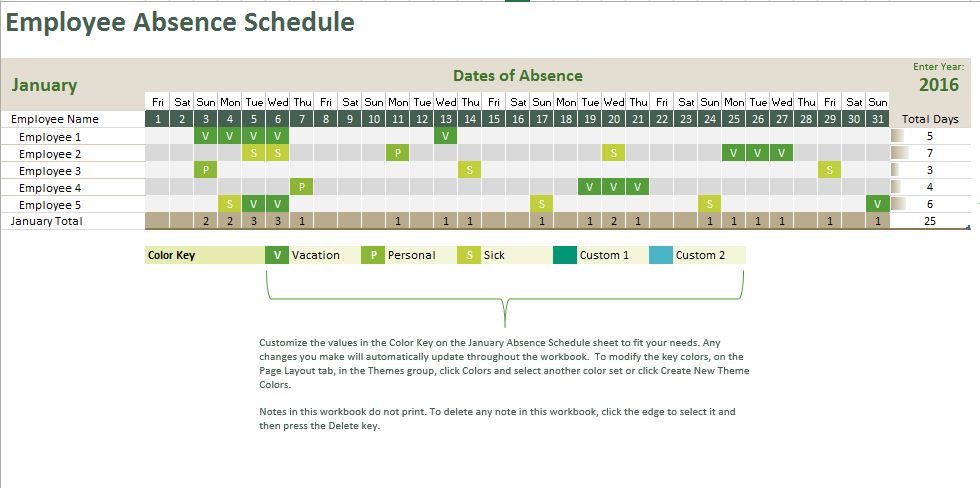 Functionalities and how it works
To start using this free Excel template, you need to first update the year on the first tab (January). Make sure it shows the correct year. If it isn't, just change it and you'll see how the whole calendar adapts itself.
This free Excel template comes with 3 predefined absence types and 2 custom types that you can change based on your custom needs. To make it work, you just need to type V (for vacation), P (for personal), and S (for sick), in the cell of the day when an employee was absent. The workbook will automatically color the cell to give you a better overall picture of an employee's availability and its reason.
To the right of the table, you can find the total days a particular employee was absent over the course of the full month.
Download your free Excel template "Employee Absence Tracking Calendar" here:
If you like my templates, I'm looking forward to a little donation 🙂
Similar free templates online:
I made a quick search for similar free Excel templates and found some helpful URLs. Hope you find them useful too: