Every form of an event is subject to precise planning. Be it to organize a private party or an event for the company or even to support an external client with his celebration or performance.
Here, nothing must be left to chance, otherwise, in the worst case, the event may even fall through because, for example, a required permit is not available.
To ensure a smooth process, I have created a kind of checklist for event planning using Excel.
Table of Contents
Structure of the event planner
The Excel template is divided into several worksheets:
General
Program
Service provider
Requirements
Marketing
List of participants
Based on this compilation, it should be easy for you to consider all necessities. Simply add your individual requirements to the entries or choose from the ready-made dropdowns.
In detail, it then looks like this…
General tab sheet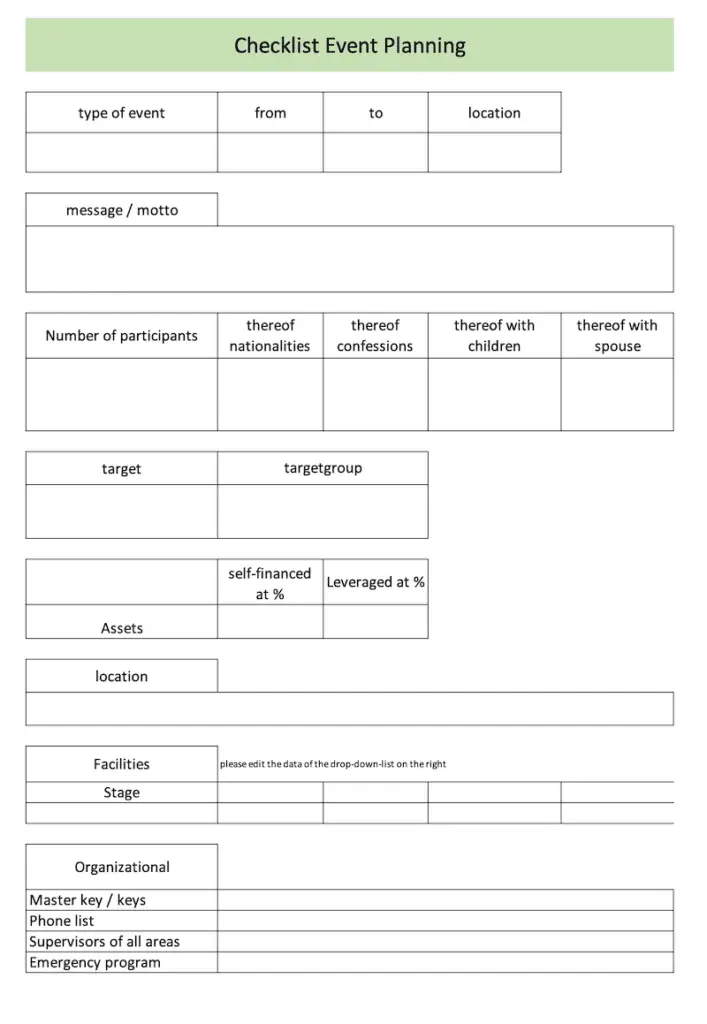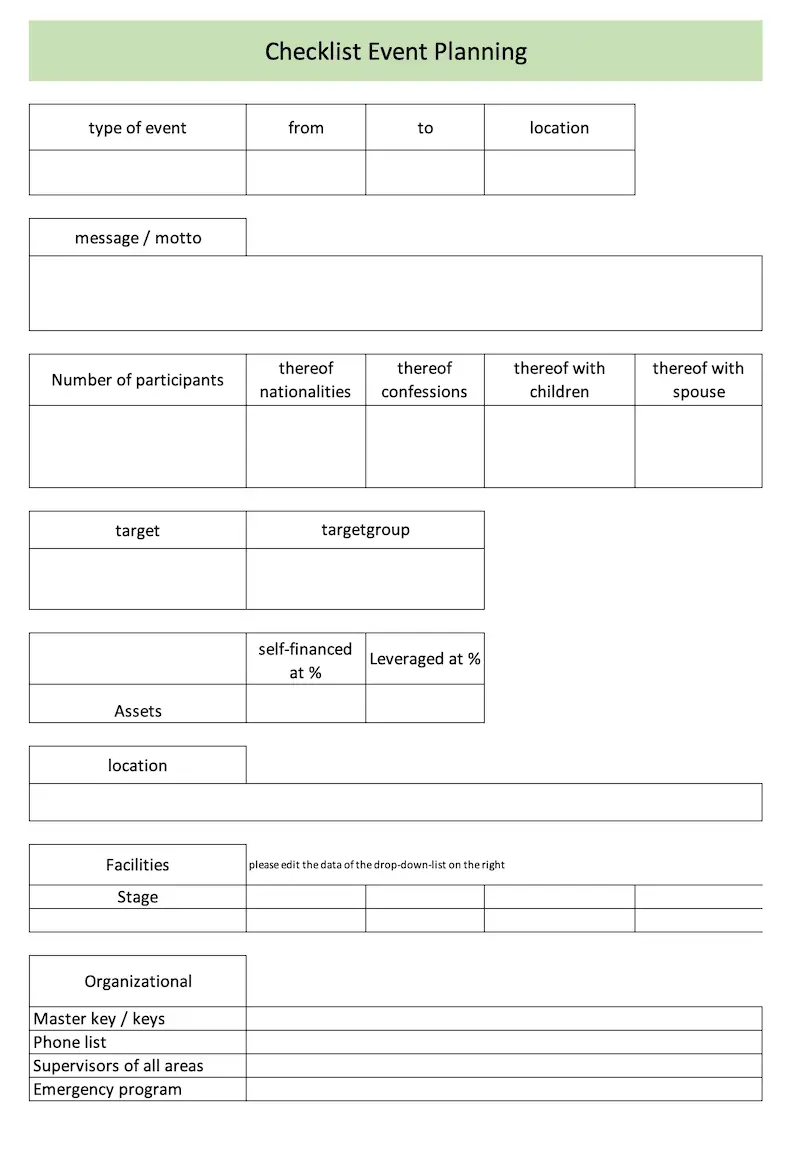 Here you record what type of event it is, how long it goes on for, what the theme is, what your goals are, and the makeup of the target audience.
In addition, of course, the number of participants, their nationality, denomination and the number of children and/or spouses is important or can be important.
The financial component may play a role, so a section has been added for self-funded and leveraged.
Place and location of the event is important, as there are also various constraints attached to it. An outdoor event presents itself in many ways more complicated compared to a conference hall.
Also important is the question of equipment that is already available or that still needs to be organized:
Stage
Elevator
Checkroom
Parking spaces
Kitchen
Artist dressing room
Workshop
Technology (IT, server room, internet, WiFi, beamer etc.)
Equipments are fed by a dropdown. To do this, enter your values in the column to the right of it. They will then automatically appear in the dropdown menu.
Also in the "General" tab, there is a checklist for:
Key, master key
telephone list of all planners and responsible persons involved
elaborated emergency program
The program of the event planner
The next worksheet deals with the actual program. Here you can create an overview of all program points and enter time periods, contents, actors and responsible persons.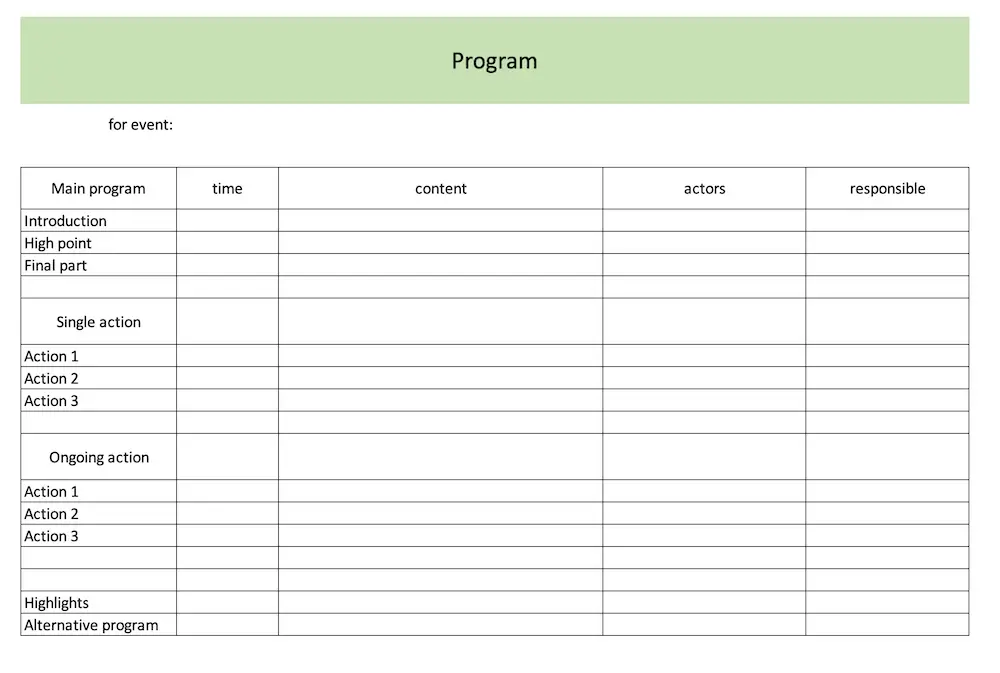 A further subdivision into main program, single action, ongoing actions and highlights give even more possibilities to consider everything
Of course, you can add to the list as you wish.
Service providers needed for the event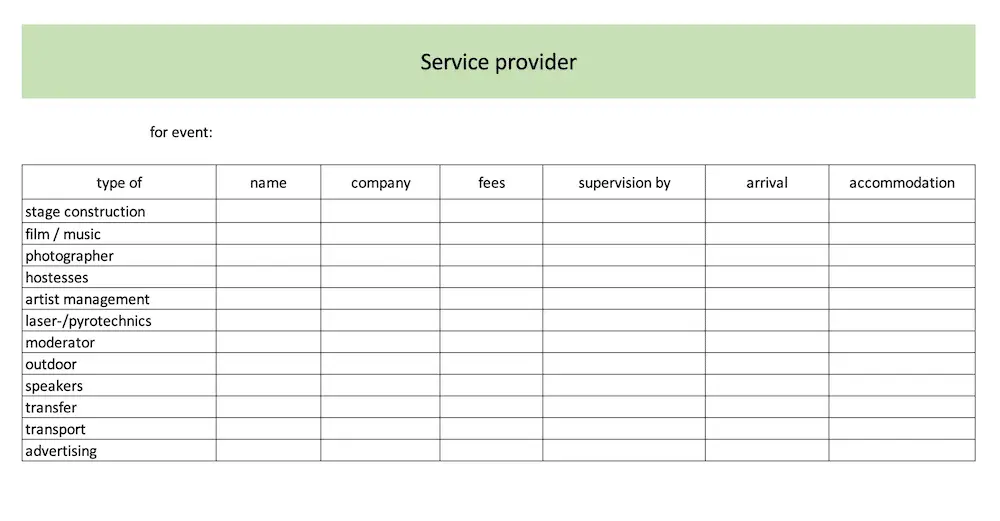 The "Service Provider" worksheet lists all types of support. From stage construction to advertising, everything is represented (hopefully):
Stage construction
Film / Music
Photographer
Hostesses
Artist management
Laser technology
Pyrotechnics
Moderator
Outdoor
Speakers
Transfer
Transport
Advertising
Catering / Meals
Accommodation
Requirements at an event
Which authorities must be informed? Is janitor, fire department, sanitary service necessary? Is there a curfew or other things that need to be considered?
With the help of this checklist, you can check everything.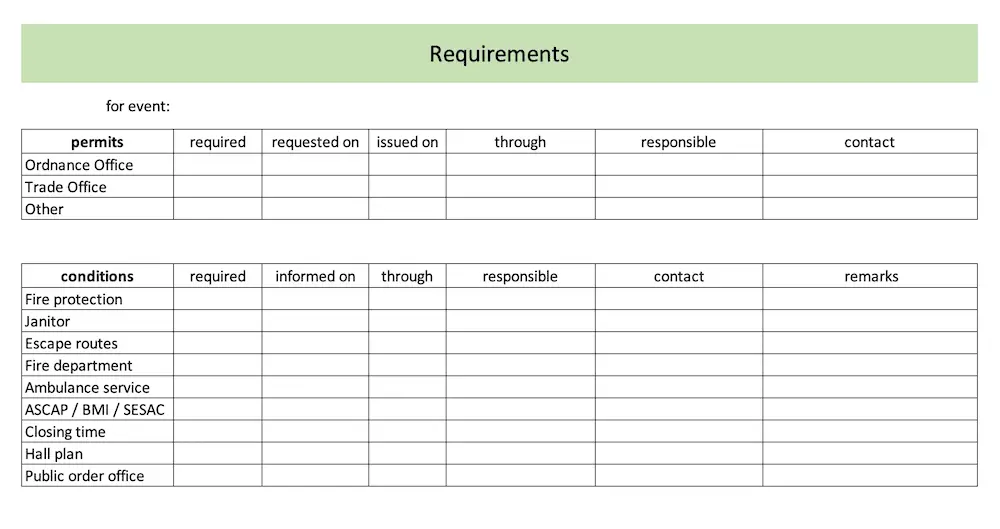 Marketing of the event
Depending on the type of event, different types of marketing can be used. Some can be done by the company directly or by an agency. In any case, production and publication should take place in good time so that interested parties can actually attend the event.
The following things may be of importance:
Corporate identity (CI, logo, colors, fonts)
Create and distribute printed matter, flyers (see below)
Direct advertising by mail or post
Website
Radio, TV
Social Media
Social media marketing (Facebook ADs e.g.)
Sponsors
Printed matter:
Invitation, Flyer
Program
Stationery
Envelopes
Signs (names, badge, table, signage, lectern)
Banners
Roll-up displays
Forms
Lists
Folders
Give-away
List of participants to the event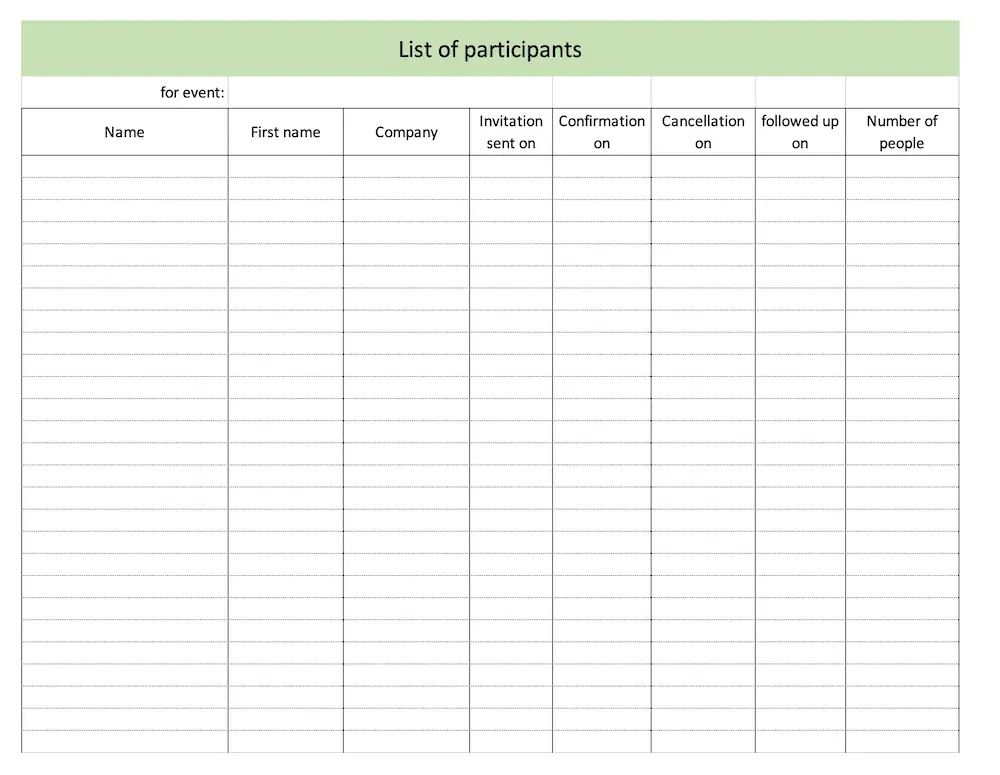 The most important thing at the end. Of course, the list of participants must not be missing! Record here the names, the number of people who may accompany the participant, and the date of acceptance or cancellation.
Following up with no feedback is certainly a good idea as well.
Download of the event planner
If you like my templates, I'm looking forward to a little donation 🙂