Those who do not want to deal with an extensive Microsoft project may make the first steps that are important for project management and project planning using these Excel templates. You may divide the project into subtasks and provide it with the date and time. The whole timeline is then plotted on colored background cells of the Excel template. In this template it is offered as an example. In the template there are two spreadsheets for the months of January to June and July to December 2013.
Have a look at the screenshot of the project management excel template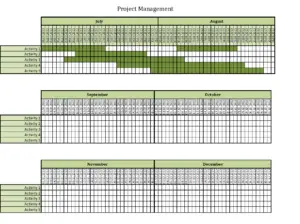 Project management with Excel templates[/caption]
Download the project management template for free



Here you may find this template in different file formats (.xls, .xlsx, .xltx, and zip). Please, the users of Internet Explorer should pay attention to the fact that direct download of .xls files may fail to function in your browser, that's why you have to choose a zip file.
More project management templates in the network
A little research showed that there are other good project management templates to download: