A sleep diary is an important tool for detecting sleep disorders. Of course, it is not always a disorder if a few nights can not sleep well. However, if you sleep badly over a longer period of time, you should keep a sleep diary.
For this purpose, I have created a template as a PDF and as an Excel file.
Table of Contents
How do I use the sleep diary or sleep log?
First, download the template in the desired format at the end of the article. Then print out the diary. Alternatively, you can fill the diary in Excel, but analog is usually more at hand.
You should keep the sleep diary for at least 14 days. Make entries directly before going to bed and after getting up.
The evening log includes questions 1-6; the morning log includes questions 7-15.
Estimate the entries for time asleep, time awake at night, and total sleep time. No clock is necessary.
For questions 1, 2, 5, 7, and 8, make a personal assessment using the school grade principle: 1 = very awake/fresh; 6 = very tired.
Under question 16, enter all medications you are currently taking. This is sufficient once and only needs to be written down in the other columns with the amount/dose and time.
Please do not change your medication intake during the 14-day log phase.
Preview of the sleep diary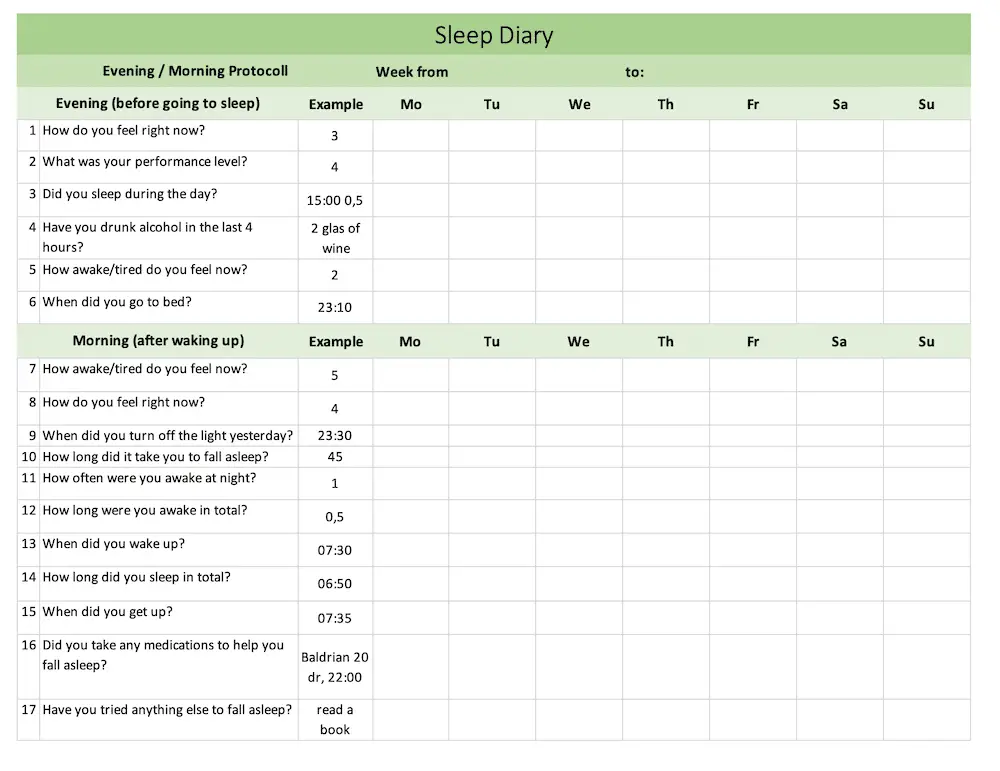 Download the sleep diary here
If you like my templates, I'm looking forward to a little donation 🙂
Other diaries online
The sleep foundation offers a good sleep diary, too:
https://www.sleepfoundation.org/sleep-diary
Here is a link directly to the PDF from the sleep research center:
https://www.nhs.uk/livewell/insomnia/documents/sleepdiary.pdf