The holiday planner for the current year (2019) has proved to be extremely popular and of course the holiday calendar for 2020 should not be missing! That's why I've already started to create it.
A holiday planner is extremely helpful.
On the one hand, it helps the company or a department to make sure that someone always holds the position and that not all employees are suddenly on holiday. Well, there can always be cases of illness, but this is another construction site ?
On the other hand, a timely blocking of the own vacation can ensure that one uses his vacation days efficiently: Thus one can make by consideration of the holidays with 8 days 2 weeks vacation. As for example with use of Good Friday and Easter Monday.
The new template for holiday planning 2020
In the last Excel files for the planning of the holidays, I have also taken the following year into account in order to guarantee planning beyond the turn of the year. This is also the case in the current planner.
New is a further colouring (grey and/or black/white) and a variant for more than 7 coworkers, in order to give also larger enterprises or departments the possibility to determine vacation times. For this case I have prepared separate files for download, which have space for the planning of 15 employees.
Since this of course takes up more space on one worksheet, there are three instead of two worksheets. Compare the different previews and decide which template is best for you (see preview below).
Template type 1 – plan holidays for up to 7 employees
On the first two worksheets you will find 6 months each with the individual weekdays and space for 7 employees. You can print out the sheets and mark which employee is on vacation on which days with color or characters (for example, a cross or dash). Of course you can also assign colors in Excel. This will be explained later in the text.
Template type 2 – for up to 15 employees
There are three worksheets for January to April, May to August and September to December. Additionally January, February, March and April 2021.
The handling is the same as for type 1.
Make a coloured mark in the holiday calendar directly in Excel – this is how it works
If you prefer to do this with Excel, you can give the corresponding cells a background color: To create a background color, simply select the corresponding cells and then click on the color bucket in the Excel toolbar. Also compare with the illustration below.
Microsoft has written a small tutorial for this:
https://support.office.com/en-us/article/add-or-change-the-background-color-of-cells-ac10f131-b847-428f-b656-d65375fb815e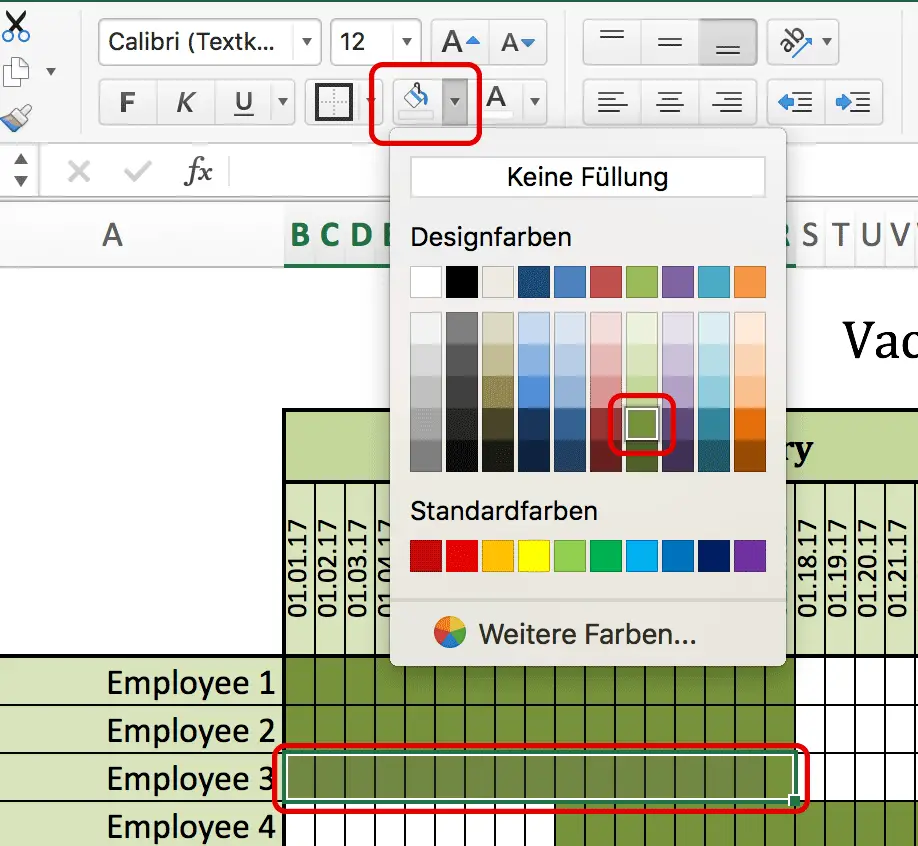 For those who are unfamiliar with Excel, I have also created the planner as a PDF. Just download, print and fill in the same way ..
Screenshots from holiday-planner 2020 and parts of 2021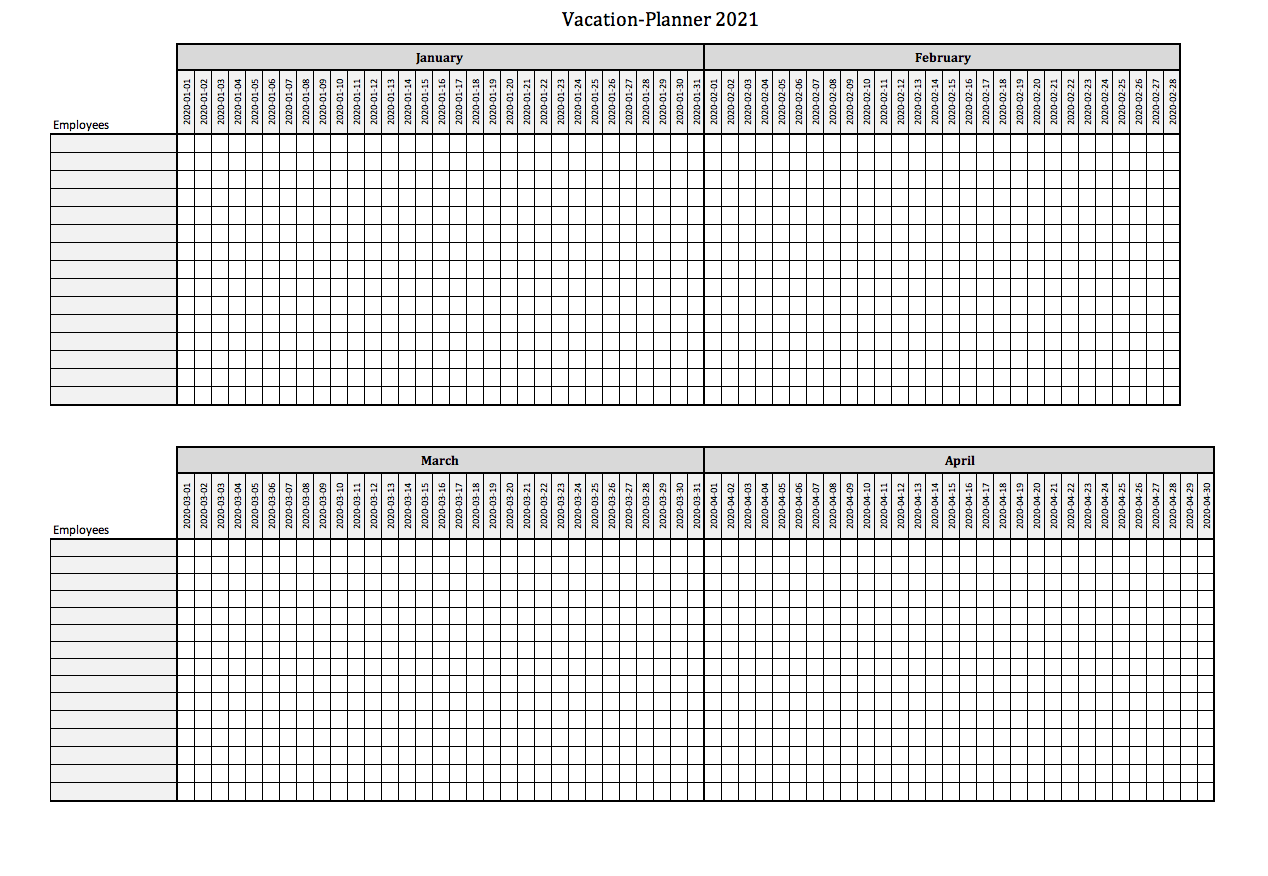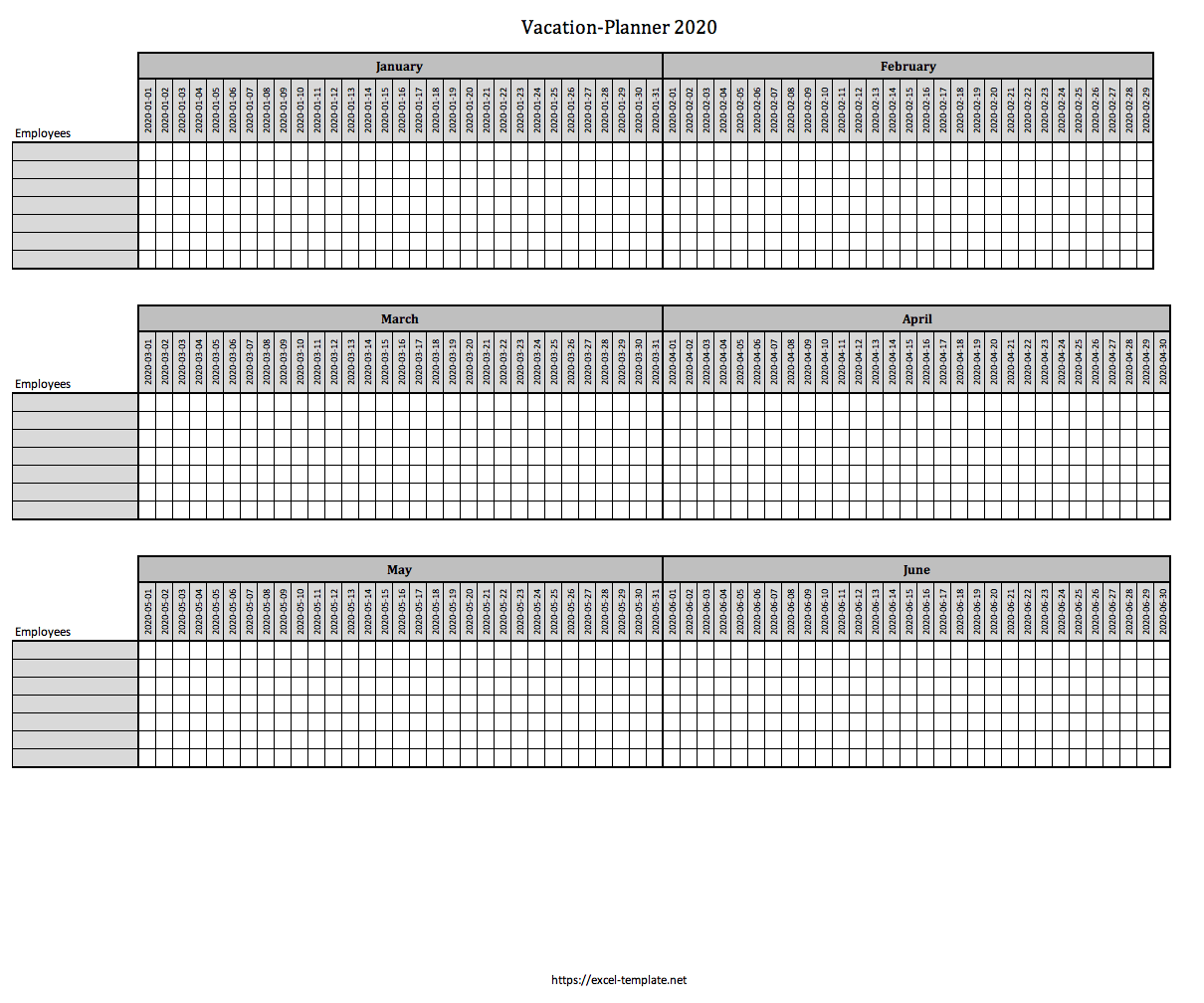 Download your free copy of the vacation-planner-template for 2020
Here are the files you need for the purpose you want: Excel-sheets for managing the holidays of your team with your excel-software or a blank pdf for printing it and mark it with a pen.
Vacation-planner 2020 files:
Vacation-planner 2020 for up to 15 employees:
This page in german can be found here:
https://excel-vorlagen.net/urlaubsplaner-2020-excel-kalender/