Planning and organizing a wedding isn't a small feat, and there are an endless number of gaffes and errors that could lead to embarrassment and more. 
In fact, remembering all the important details, from little to the big ones, is really hard. That is why there are so many wedding planners out there.
But if you are one of those DIY types, you'll definitely need the Wedding Budget Planner MS Excel template. After all, you can't keep track of everything and at the end the bills for a perfect wedding get out of control.
With the free Budget Planner Excel template, it won't be like this. You will estimate your costs and budget from the first and split it among different categories by percentage to keep an overall record of your wedding spendings.
Have a peek at screenshots from the Wedding Budget Planner Excel Template: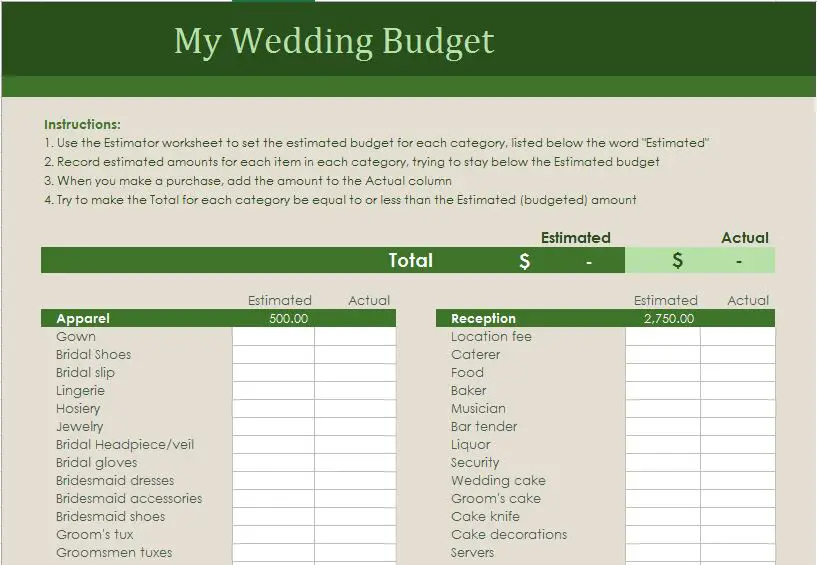 How it works:
This workbook has 2 worksheets:
Both worksheets have brief descriptions of the functionality. To get started, you need to start with the Estimator worksheet and add your "Allowable Budget" for the wedding. Then you continue by dividing the budget by percentage into predefined categories.
Then you write down the items of each category in the Budget worksheet. You have to try to keep the budget under the "Allowable Budget".
All in all, this is visually nice and effective way of keeping track of a wedding budget.
Download your free Excel template "Wedding Budget Planner" here:
If you like my templates, I'm looking forward to a little donation 🙂
Similar free templates online:
I made a quick search for similar free Excel templates and found some helpful URLs. Hope you find them useful too: