Those who prefer to plan 2021 on a weekly basis can download a weekly calendar based on an Excel template here.
Contrary to the monthly or even yearly calendar, a weekly planner is much more detailed and one never loses the overview of all things that have to or want to be planned and considered.
How does the weekly calendar work with Excel?
The template is structured in the same way as the calendar from 2020, but of course you first have to download the Excel file at the end of this article and open it with a spreadsheet software (Excel, Numbers, OpenOffice or similar).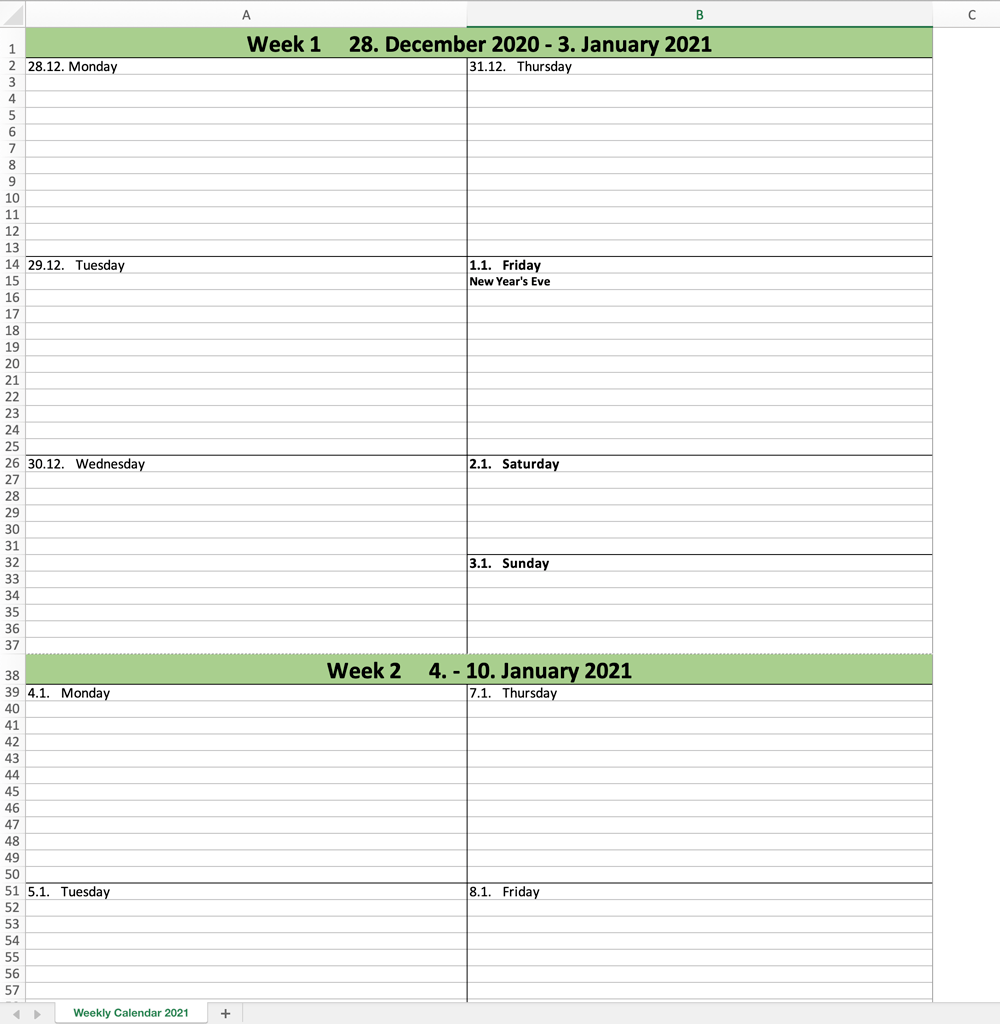 Then you have two options. These depend on your preferred editing method. If you prefer to work digitally, make your calendar entries directly in the Excel file. Save this on your computer and use it as your private calendar. Of course you can store this on a central server so that your colleagues and co-workers can access it. Already you have a small project planner…
If you prefer to work with analog or paper, print out the entire calendar and make the entries by hand with a pen. For this kind of editing I have also prepared a PDF version. Maybe this is also helpful for some of you.
To make it clearer, the file is created in a way that one page always covers one calendar week. Also the week number is entered above, so you always have a good overview.
If this template is too comprehensive for you, you can also use the permanent week calendar. This covers only one week. There one enters above the date for the appropriate week by hand. You can find this calendar here: https://www.excel-template.net/weekly-rota-with-excel/
Download section of the weekly calendar 2021 excel template
Here you can download the Excel and PDF file:
This page in german can be found here:
https://excel-vorlagen.net/wochen-kalender-2021-excel/