In this article I offer you a monthly calendar for 2020 as Excel template and as PDF for free download. As always you can download this template without registration or login.
The calendar consists of 12 Excel worksheets (or registers), one for each month. In the lower part, you can make a few important comments in the Notes section.
In contrast to my weekly or annual calendar, there is more or less space here. If you like it more detailed, you should go back to the calendar in the weekly view.
The editing is very easy: Download the Excel file, open it with Excel or OpenOffice or Numbrs (or other software for editing tables) and make the corresponding entries for the days of the month. Or you can print out the entire workbook and manually enter the events into the calendar.
If you don't want to have anything to do with Excel at all or don't use the program, you can download the monthly calendar as a PDF file and print it with Adobe's "Reader" – no problem, either. Mac users can use the "Preview" software.
But before it comes to the download, first a screenshot of the calendar.
Screenshots of the monthly calendar 2020 in green and black & white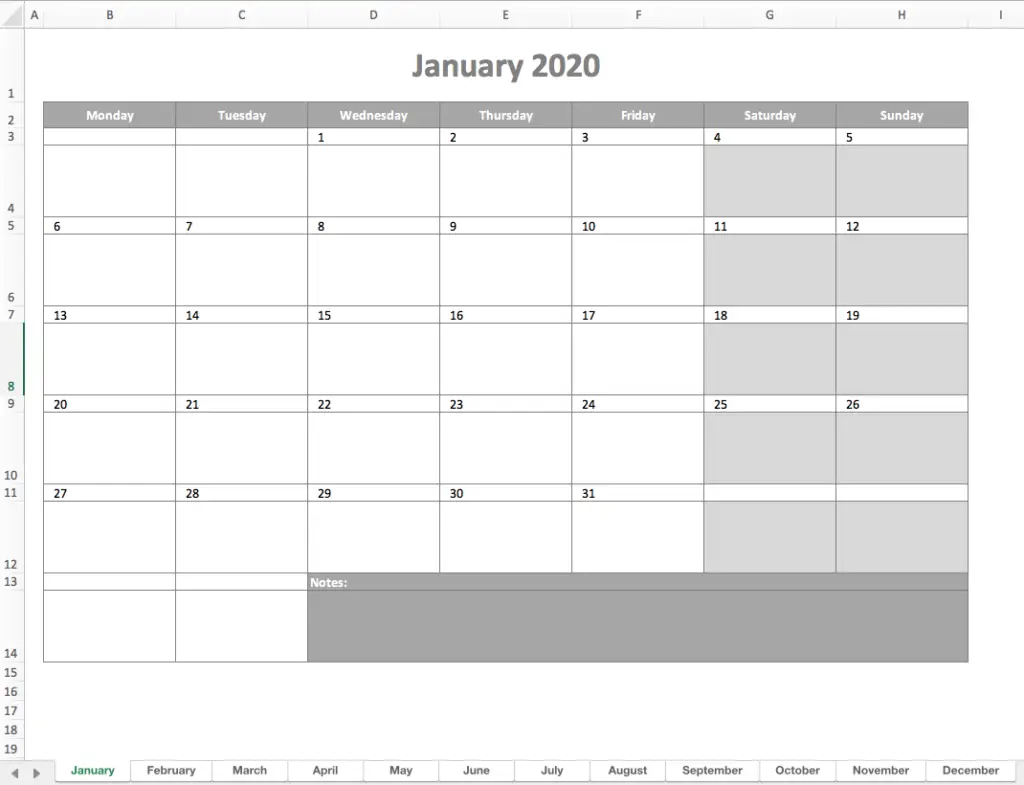 Download your free monthly calendar 2020



Here you may find this template in different file formats (.xlsx, .xltx, zip and pdf). Please, the users of Internet Explorer should pay attention to the fact that direct download of .xls files may fail to function in your browser, that's why you have to choose a zip file.
More monthly calendars for 2020