A wine cellar is something very special. Anyone who deals intensively with the subject of wine, whose wine stock will become larger and larger in a short time. Quickly comes the question, how to manage a private wine cellar best?
My research showed that there are three groups of wine lovers and collectors:
The old-fashioned collector writing down everything in a pretty book.
The old fashioned IT affine who creates an Excel spreadsheet or even Access database and
the modern enthusiast with a large collection of wines that relies on professional and expensive software.
Who counts to point 1 can fall back here on a beautiful book.
Modern software is available from these providers:
And the rest will be happy with the following template for managing your private wine-cellar 🙂
Preview of the wine-cellar-inventory with excel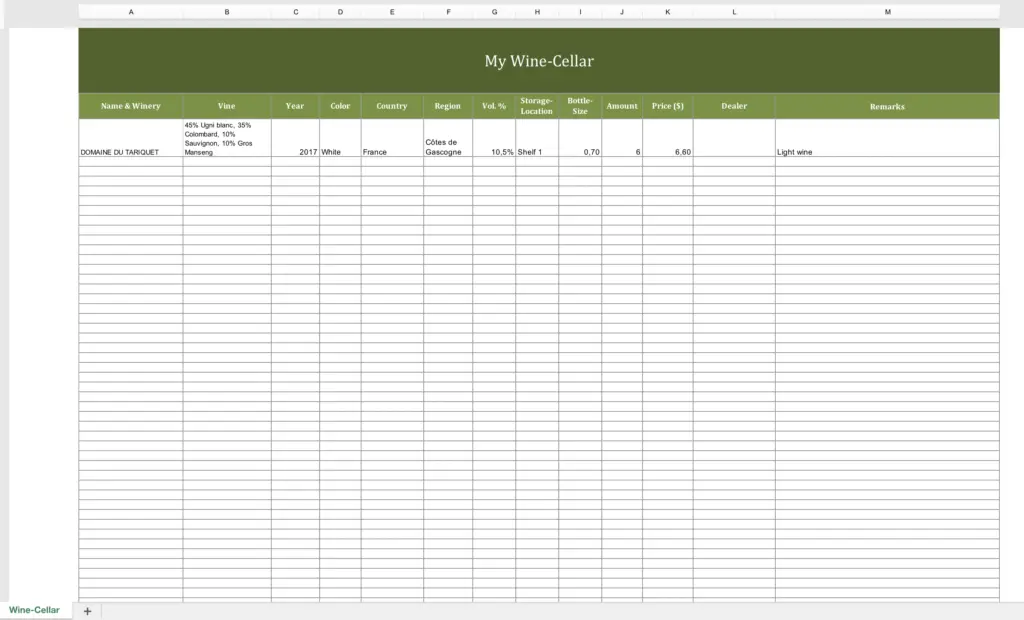 Free download of the excel-winecellar-inventory-list
As usual, these templates are available as xlsx and xltx files as well as zip.
For those who do not want to work with Excel, there is still a PDF to download. This can be opened with the Acrobat Reader and conveniently printed.
I recommend users of Internet Explorer to download the zip file, as the others may not be recognized by Windows as an Excel file.