A pain diary or pain log is always necessary when one complains of pain over a longer period of time. With these records it is possible for a doctor or therapist to derive or monitor therapies and treatment options.
To make it as easy as possible for patients to record their pain, I have created two types of pain diaries in Excel as templates.
As always, these templates are free of charge.
How do I use the Excel pain diary?
As mentioned above, I have prepared two diaries or log sheets. One is based on the Numeric Analog Scale (NAS) and the second is based on the Smiley Analog Scale (SAS).
Pain diary based on the numerical analog scale
Here, pain is recorded in levels from 0 to 10. Independently thinking people can estimate this type of scale well and use it correctly. Usually, the grading is done by a horizontal line with appropriate subdivisions. For the sake of simplicity and so that one can record a complete week with all times, I have made the subdivision in vertical columns.
In Excel, the diary looks like this: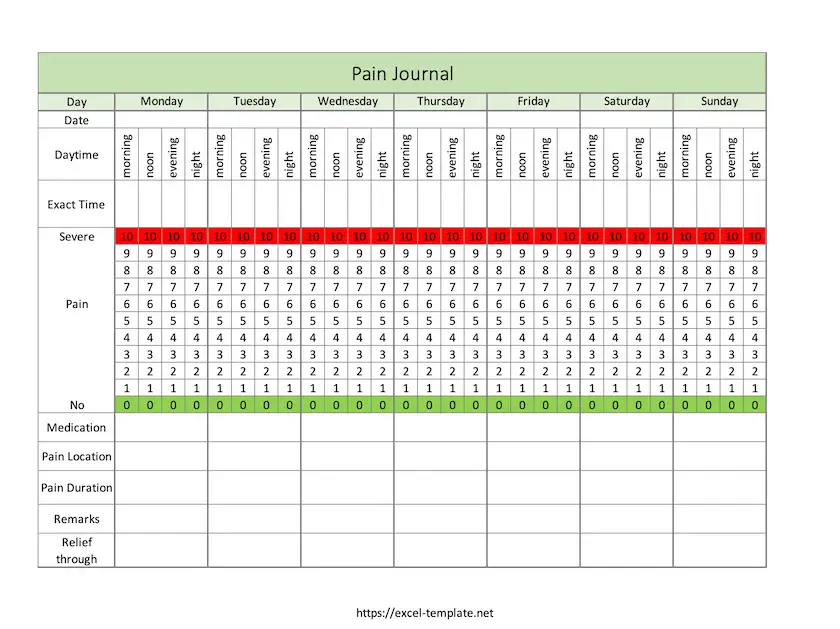 Pain diary based on the Smiley Analog Scale
For children, dementia patients and elderly people it is more difficult to express themselves correctly, especially when it comes to describing pain. The Smiley system was developed for this purpose. It is particularly easy to use. All the patient has to do is point to a smiley that best describes his or her condition.
The gradations are:
no pain,
mild pain,
medium pain,
severe pain,
very severe pain,
strongest pain imaginalbe.
The last point is not included in my scale – but should possibly be considered in the questioning.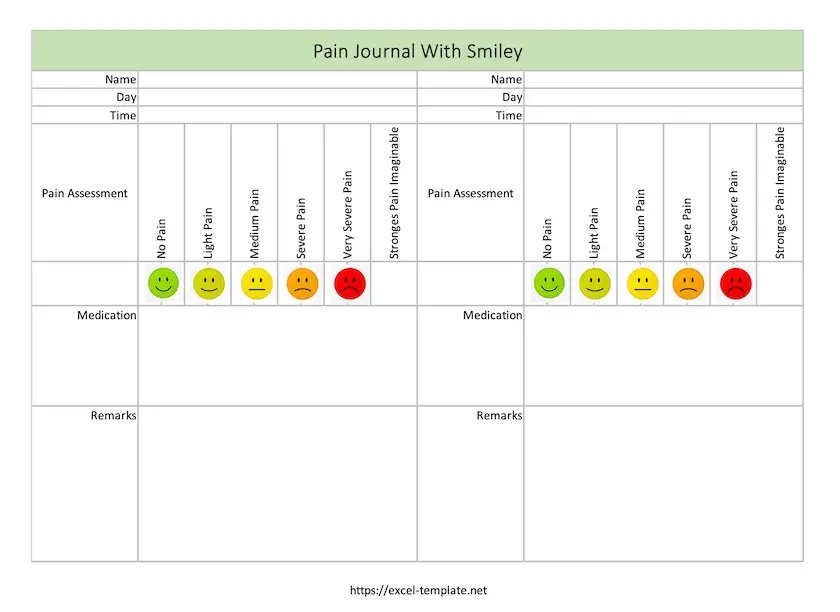 How do I use the Ecxel pain logging templates?
First, download the appropriate template – you will find it at the end of the article. Then open it with Excel or another spreadsheet program.
If you don't have Excel, you can also download the PDF version and simply print it out 🙂
Download the pain diary as an Excel template.
Below you will find the Excel file to download.
If the template has been helpful to you, I would be very happy to receive a small "coffee" donation:
If you like my template I'm looking forward for a little donation 😉
Other sources for a pain diary on the Internet.
There are many helpful other templates for this on the web. These ones presented here seem to me to be the best: