For the coming year 2023 I offer today a calendar as Excel file or Excel template for download. The calendar is prepared "year by year", i.e. you will find an overview of the entire year on a worksheet. You can find a preview of it further down in the article.
Table of Contents
How is the Excel calendar designed?
On a letter formatted page, 12 months are clearly arranged in three rows and four columns. To make the individual months and days of the week easier to read, they have been highlighted in color (blue, gray or green). There is something for every taste.
Since no formulas are necessary for a calendar (at least not in this one), it can be easily saved in a PDF by Excel. Therefore I offer the yearly overview as PDF for download in addition to the usual Excel file formats (xlsx).
Using the calendar for 2023
As always, the use of the template is kept as simple as possible. Just download the calendar you want at the end of the article. Choose between the different versions as described above.
After the download, open the file with Microsoft Excel (or OpenOffice, Calibre Office, Numbers from Apple, etc.). Now you can directly open the print dialog (with CTRL + P or Command + P on Mac) and print the calendar. By default, the common letter format is used. Of course, you can also reduce or enlarge the size according to your printer.
If you still want to make changes or adjustments, you can do this before printing or fill the calendar only online.
Preview of the 2023 calendars
To make your choice easier, here are some screenshots of the Excel templates.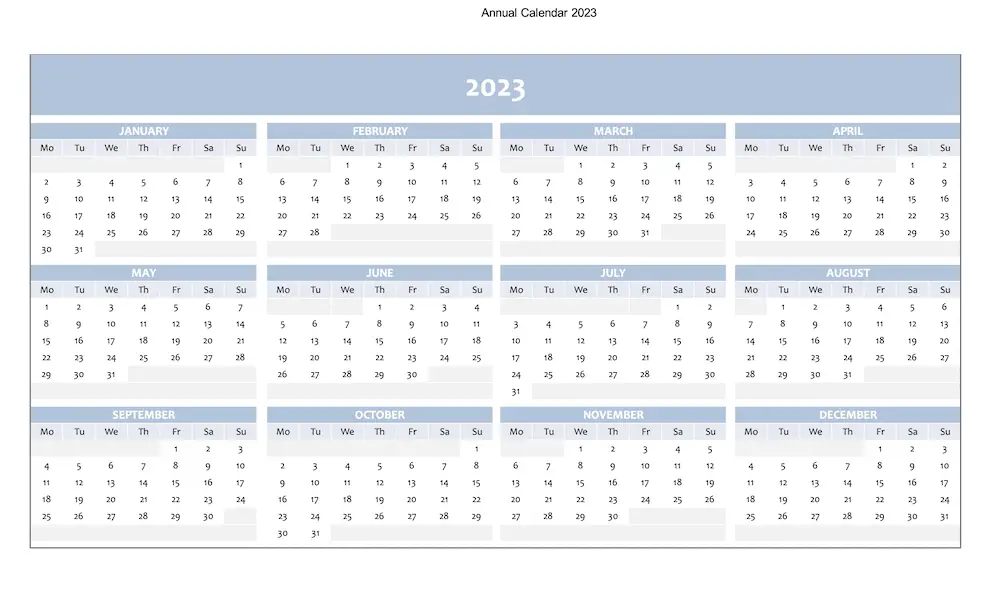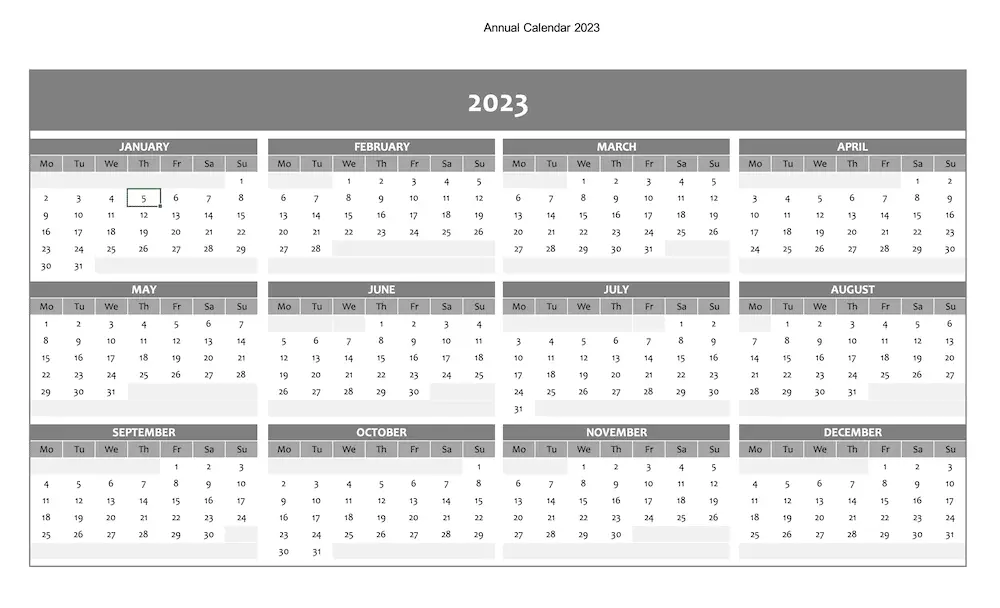 Download the annual calendar 2023 in Excel file format or PDF in different colors
Here are the Excel files:
If you like my templates, I'm looking forward to a little donation 🙂
For PDF click here:
Some more templates found online
Here are sources I found pretty usefull, too:
The German version of an annual calendar for Excel can be found here.