Welcome to Excel-Template.net, your one-stop destination for free and versatile calendar templates for the year 2024. We understand the significance of staying organized and planning ahead, and that's why we offer downloadable calendars in both Excel and PDF formats, making it effortless for you to keep track of your schedule throughout the year.
Our meticulously crafted calendar templates are designed to cater to various needs, whether you're managing personal appointments, work deadlines, or family events. With a user-friendly interface and clear layout, these calendars are not only functional but also aesthetically pleasing.
The downloadable Excel format allows you to customize the calendars to suit your specific requirements, while the PDF version ensures easy printing and portability. Experience the convenience of efficient planning with our free 2024 calendar templates, available exclusively at Excel-Template.net. Start organizing your days, weeks, and months with ease today!
How to use the monthly calendar for 2024?
At the end of the article, you will find two files to download: An Excel version and a PDF version of the calendar.
If using the Excel file, open it with your spreadsheet program (probably Excel; or if you prefer alternative software, OpenOffice or LibreOffice. Apple users can also use the free and already pre-installed "Numbers").
If you decide to download the PDF, you open the file with the preset PDF program of the operating system. Presumably Adobe Reader on the PC and Preview on the Mac (even though Adobe Reader is of course also available for Mac).
After opening, there are two options. Either you manage your calendar directly digitally and enter and manage all events on your PC or Mac. Or you print out the calendar sheets completely and manage the entries analogue.
When managing with software or on the PC, it is even possible to "share" this calendar so that other users of the PC or in the network can access it. It is best to discuss this with your IT specialist. Provision via a cloud service provider is of course just as conceivable. This way, everyone in the household or company can keep up to date with events.
Before the downloading them, here is a screenshot of the calendar.
Preview of the monthly calendar 2024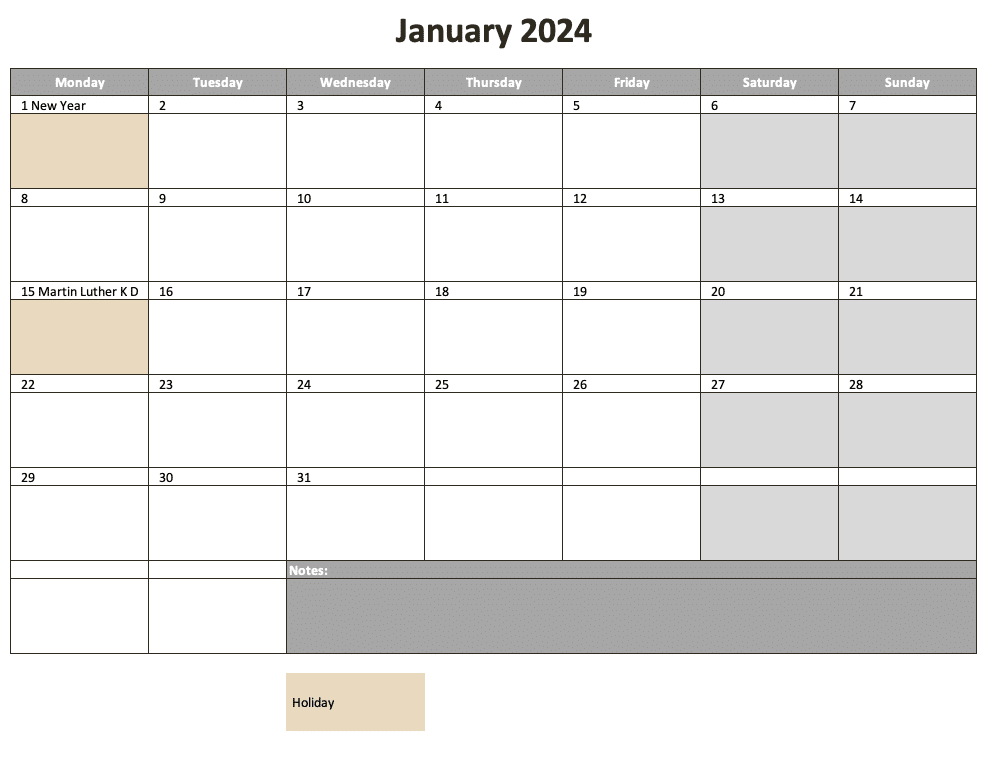 Download the monthly calendar 2024
Here are the Excel and PDF files:
If you like my templates, I'm looking forward to a little donation 🙂
Some more calendars I found online
You can find the German version of this calendar here.