What is the easiest way to create a roadmap with Excel? That's exactly what this article is meant for: Benefit from a ready-made template with roadmap to visualize all processes of your project in a timeline. In a meeting or for mail a visual preparation of all work steps of a project can be very useful. Thus, each department can see when the work has to be done and how much time has been allocated for it. At the same time, of course, indications of feasibility (is the time even sufficient) and incompleteness (certain tasks require additional steps that have not been taken into account) can be made.
How does the Roadmap template work with Excel?
As usual, you will find the file for download at the bottom of the article. After you have downloaded it to your computer, open it with Microsoft Excel or any other table editing software. The table contains only one worksheet named "Project Roadmap". Of course you can adapt this accordingly.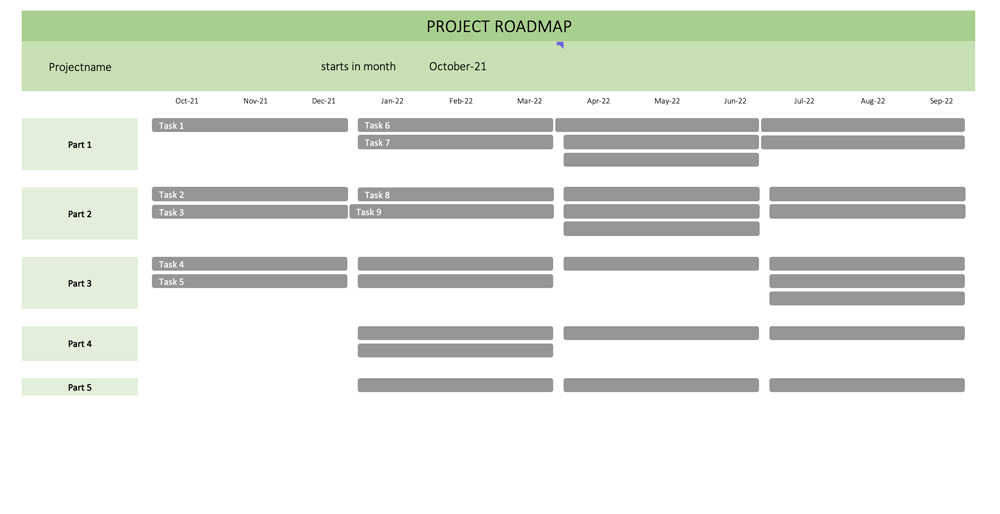 At the top left you assign a project name and next to it you enter the starting month of the project. Attention: Please enter the data here in the format DD/MM/YYYYY. For October 2021, i.e. 01.10.2021. But I have added this as a comment in the cell, so that you can read it directly in Excel. After you have defined the starting month, Excel automatically creates 12 blocks with the corresponding months, starting with the one you have defined.
Now the real work begins, the division of the project into different parts. Probably different departments or service providers are also possible here; accordingly, change the demo text from "Part 1" to "IT department", "advertising agency" or employee Peter Pattern 😉 The horizontal grey-shaded boxes describe the task or activity to be performed. The length or width of this box must correspond to the estimated time. In the example file, the length is 3 months almost everywhere. It can of course be reduced. To do so, click on the grey area and wait until 6 drag boxes appear, with which you can adjust width and height.
If you click directly into the box again, you can delete the demo text and replace it with real text.
Download section of the roadmap excel template
Here you can download the Excel file:
https://excel-vorlagen.net/roadmap-excel-vorlage/
Microsoft offers a roadmap-planner, too:
https://templates.office.com/en-us/agile-roadmap-tm16410236