This week, I like to introduce one of my most favorite Excel templates, namely the Weekly Meal Planner. A friend of mine recently asked me to create an Excel template for his wife, a proficient Excel user herself, to help her in her weekly task of putting together a meal plan for the whole family.
The initial template wasn't as huge as this free Excel template, and had only a fraction of its current functionality, but fortunately, I received very much appreciated positive feedback from my friend's wife and was encouraged to build on it. The free MS Excel template that follows is the result of many iterations and adjustments to create a functional but at the same time easy to use template.
Have a peek at a screenshots from the Weekly Meal Planner Excel Template:
Functionalities and how it works
This easy to use Weekly Meal Planner, gives you 3 formats for planning your meals:
Planner 1: This planner is organized by days of the week and is designed to be printed in portrait layout.
Planner 2: This planner is quite similar to planner 1. It is just designed to be printed in landscape mode.
Planner 3: This planner is quite different and is organized by meals rather than days of the week. Using this planner, you'll know at a glance what you've eaten this week, find the gaps, and will have it easier to cover shortcomings to provide for a healthy nutrition for your family.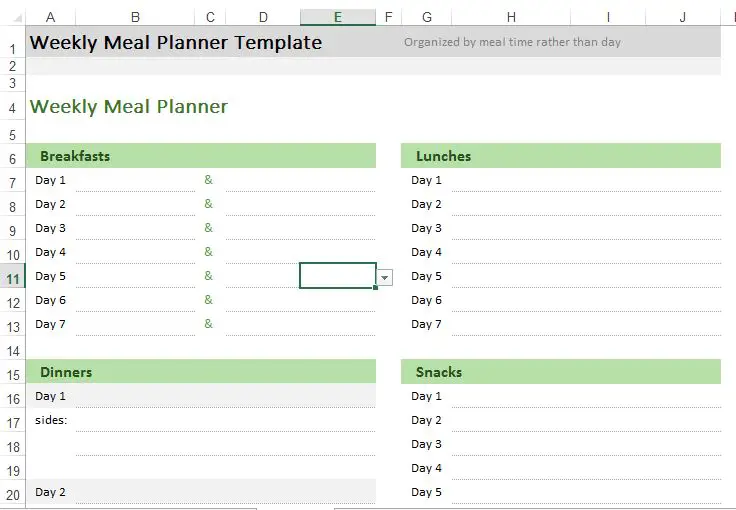 One of the added benefits of the Weekly Meal Planner free MS template is that it is highly customizable. You can easily add new meals to the worksheet and then choose them conveniently by means of a drop-down list.
Download your free Excel template "Weekly Meal Planner" here
[give_form id="853″]
Similar free templates online:
I made a quick search for similar projects and found some helpful URLs. Hope you find them useful too: