Keeping up with one's schedule in school is essential, not only in receiving a decent education and the first building blocks for life, but also in learning discipline and getting organized. Years ago, I remember when visiting school, we had those nice tables and spreadsheets on the back or inside of the cover of our notebooks and every semester I filled it with my new class schedule.
This week, we introduce the Class Scheduler free Excel template. While visually appealing and nice to the eyes, it offers tons of functionalities spread over 2 spreadsheets.
Have a peek at screenshots from the Class Scheduler Excel Template: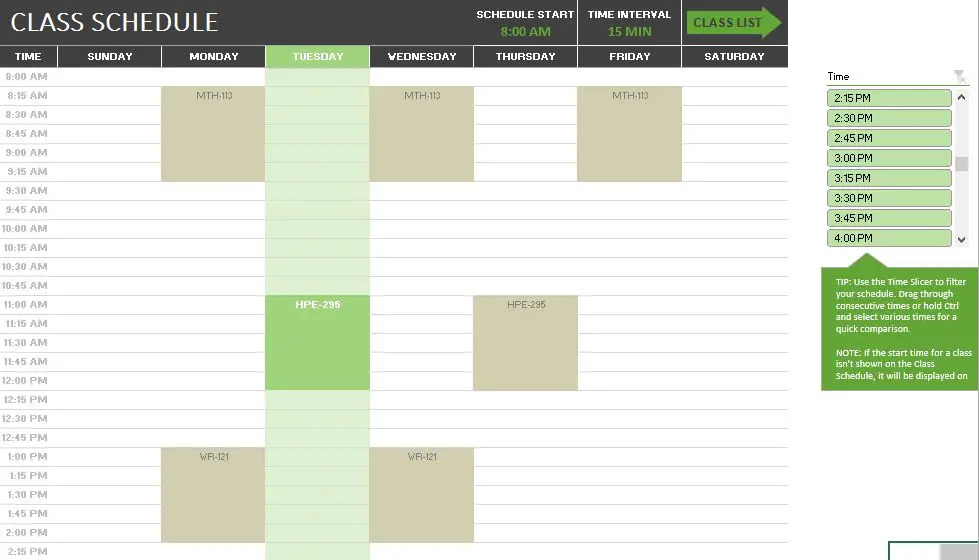 Functionalities and how it works
To use the Class Scheduler Excel template, you need to first enter your full class schedule into the worksheet. The class list worksheet (shown above in the second screenshot) is where all your school schedule goes in. The spreadsheet has some pretty standard fields like Class, ID, Day, Location, Start Time, and End Time.
After fully entering your schedule in the class list tab, you can go over to the class schedule tab and use all the niceties in that spreadsheet. Obviously, it highlights all your classes with their names. In addition, it automatically gives the current day a special coloring to draw your focus to what is at hand.
A very nice feature of the Class Scheduler MS Excel template is the time filter to the right of it. It enables you to click the times you are interested in and will only show those times in the spreadsheet.
At the top of the spreadsheet, you can change the available time intervals in the spreadsheet from 15-minute intervals, up to 60-minute intervals. To tell you the truth, this free Excel template can be used for more than school. Every daily and repetitive routine can be organized and scheduled with this simple but functional excel template.
Download your free Excel template "Class Scheduler" here:
Similar free templates online:
I made a quick search for similar free Excel templates and found some helpful URLs. Hope you find them useful too: